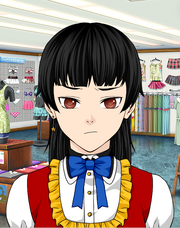 Noire Yumichika
is a character in
The New Killing Game SYOC
She has the title Super High School Level Cheerleader, due to her cheerleading skills.
Noire killed Yua Ide in the storage room in Chapter 1 in a blind panic when Yua discovered Noire's secret. She was caught by the others during the class trial and was executed by Monokuma.
Appearance
TBA
Personality
TBA
History
Prior to Hope's Peak High School
TBA
Chapter 1
TBA
Execution
Main Article:Pyramid Destruction
Relationships
TBA
Panic Talk Action Remarks
"Shut Up!"
"YOU RUNT!"
"Stop Fucking Around!"
"I'm Innocent I Swear!"
"GHhhh"
"You Bastard!"
"I've done nothing wrong!"
"Show me some proof! If you don't have any, then fuck off!" (Final Argument)
Trivia
TBA
Ad blocker interference detected!
Wikia is a free-to-use site that makes money from advertising. We have a modified experience for viewers using ad blockers

Wikia is not accessible if you've made further modifications. Remove the custom ad blocker rule(s) and the page will load as expected.